6 Cost Effective Ways to Beautify Your Bathroom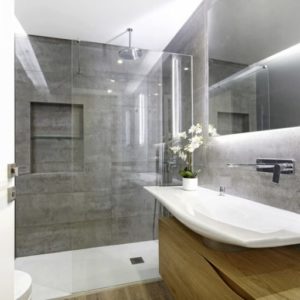 Remodeling a bathroom can do a lot to increase the value of a home. It has been estimated that when homeowners remodel this room, they can get an ROI (return on investment) of about 70%. Even if the remodel job on a bathroom is aimed more at making you more comfortable in your home, there are ways to create a new bathroom look without clearing out your bank account. Here are some tips:
Use less tile. Tile looks great in bathrooms and kitchens all over the United States. It can get pricey. When you have a contractor who handles bathroom remodels use as much tile as they would like, the price tag on your new bathroom remodel is going to get to be pretty high. One way to get the benefit of some nice tile without blowing your budget is to use it sparingly. Get some really nice tile and place it as an accent in high profile parts of the room.
Look at different materials for your counters. A lot of homeowners out there thing that all home remodel services who do bathrooms always recommend granite counter tops for everything. While that can be nice, there are a lot of other materials out there that look great and cost a lot less. Some people are also turning to pieces of furniture to use as vanities. At the end of the day, you can get a much nicer bathroom by looking around at alternative vanities and the like.
Change the look by painting the room. The easiest, quickest, and most cost-effective way to make an old bathroom look like a new bathroom is to paint it. If you are going to paint the room yourself, you will need to take it slower than you may realize at the outset. Unlike other rooms that have lots of wall space where not a lot of detail is involved, the bathroom has less of that. You have more areas such as around the windows, door, shower or tub, and vanity. There is a lot more detail-oriented space in this room so you will end up taking more time than it may seem you will have to spend. You also need to be careful with the kind of paint you get. The conditions in the bathroom are different than in other areas of your home. The paint in the bathroom has to withstand more moisture than other rooms have to deal with.
Get new fixtures. This may seem like a small thing but when you update your fixtures you can make the space look like a new bathroom. There are more fixtures than you may realize. You have the towel racks, light fixtures, faucets, shower head, and door handles. If you are looking to make your bathroom really reflect your personality, get creative with things like the towel racks. You do not have to go with cookie cutter fixtures for your bathroom. Check out some local antique stores or flea markets to get ideas about what you can put in your bathroom to replace the fixtures.
Put in new grout and caulk. It can be amazing how such a small thing can make your old bathroom look like a new bathroom just by putting in new grout and caulk. Few things look worse in a bathroom than old, dirty, and cracked grout and caulk. This is a very easy and inexpensive way to clean up the look of your bathroom.
Cover your tub, do not buy a new one. Few things look better in a bathroom than a new bathtub. Getting rid of an old tub and putting in a new one can be very expensive. The good news is that you can get that new bathtub to look without getting a new tub. Rather than replace what you have in there, you can be relined by professionals to get the look for less.
The bathroom can be one of the most interesting parts of a home. When done properly, this space can have a spa quality that helps you unwind at the end of the day. There are a lot of ways to spruce up an older bathroom to almost turn it back into a new bathroom.